The Innovation Accelerator and Lab vision was presented to senior leadership in order to transform our approach to R&D. The hypothesis was, by merging business strategy and design thinking, we should be able to validate new innovations earlier and increase our success-to-failure ratio.
Previously , new product introductions (NPI) efforts in the business varied by process, funding levels, and different definitions of success. This led to a haphazard approach to new products generation, with no ability to compare product successes across the board. According to studies by McKinsey, over 70% of senior executives say innovation will be at least one of the top three drivers of growth.
I led the vision, strategy, and execution of what would become an award-winning Innovation Lab in nine months. To bring this vision to life, the Accelerator is comprised of a physical space, a digital portal and innovation process, and a cross-functional team.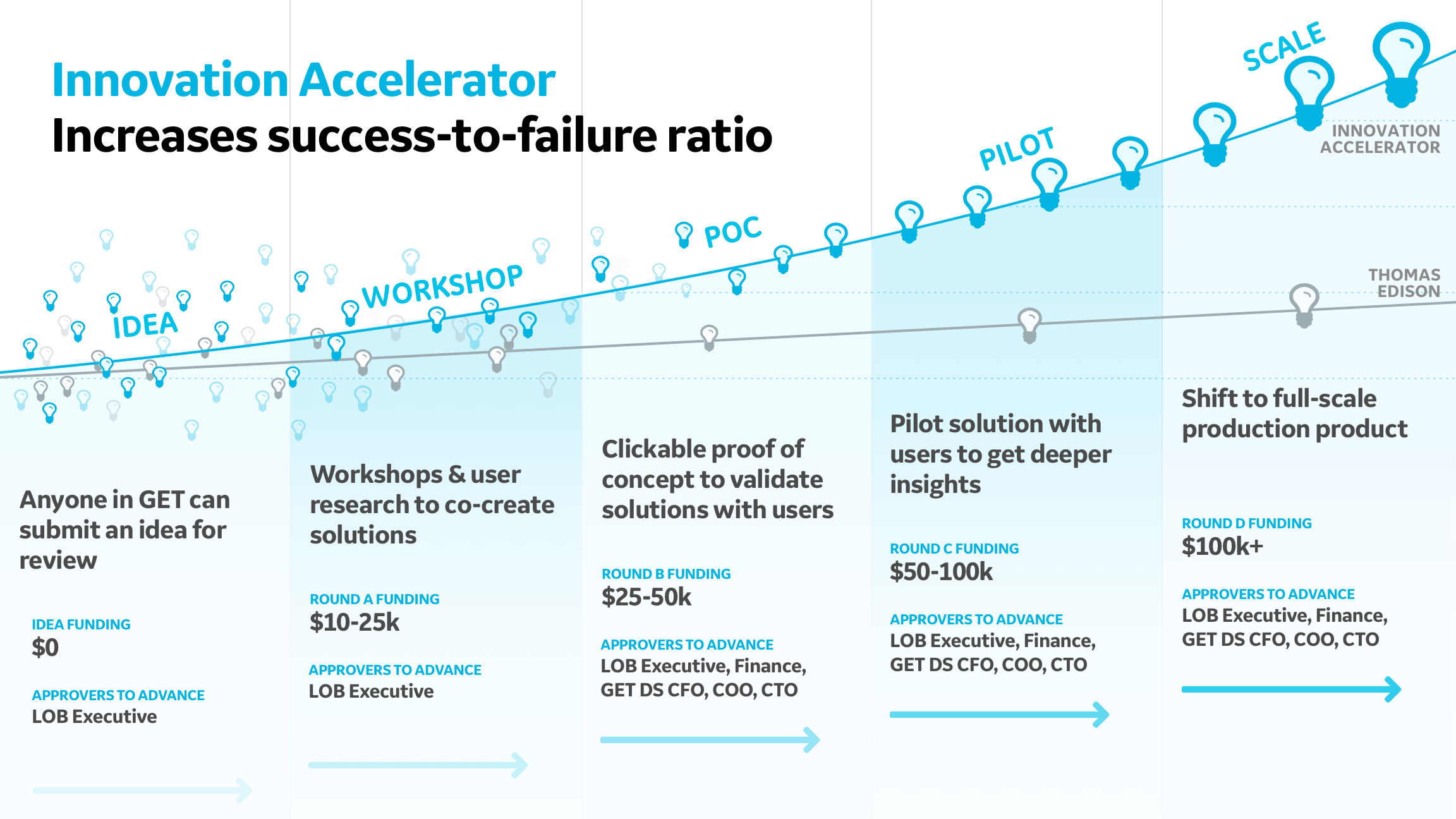 Tier-based funding model, focusing on user and market validation every step of the way.
We established a common platform to enable leadership to integrate innovation into the strategic-management agenda so it can be encouraged, managed, tracked, & measured.
Using a platform called BrightIdea, everyone in the organization is able to view all ideas in flux, see their progress, and download the documentation-in-progress. Previous ideas, ones that have been reprioritized or invalidated in the market, are kept in the backlog. This allows teams to research past learnings, or pick up old ideas that may now be relevant after markets have changed.
This platform also empowered all employees to submit their own ideas, and start building a case for it. People no longer had to wait for the innovation team to have capacity to help them. Armed with a common documentation platform, employees were able to self-form teams and start grassroots discovery efforts. Employees and leadership alike then vote on ideas to fund and progress to the next round.
Common Language
As we set out to validate our ideas, it's imperative to involve users and customers alike. Design thinking, an iterative framework to validate the right problems to solve in collaboration with users, played a key role in ensuring we start with user empathy and end with real feedback.
As new ideas and potential products are evaluated by leadership, it was nearly impossible to compare ideas and product potential without a common baseline. We created a standard set of documentation, centered around the Business Model Canvas, for teams to fill out and validate along the way. This ensured the right questions were being asked and validated, and enabled leadership to easily compare ideas to one another and prioritize investments. This documentation was iterated and validated during each round, and served as the final 'pitch deck' for each phase.
We later augmented this process with a design thinking training program, complete with a book and certificate on successful completion.
Common Space
Harvard Business Review's research shows that office space in not just an amortized asset, it's a strategic tool for growth. The statistics report a 75% increase in productivity through dedicated collaboration space.
In this spirit, the Innovation Accelerator team partnered with WeWork and opened up the Innovation Lab in Atlanta, Georgia, with access to facilities in every major city. We use this space to facilitate weekly co-creation workshops with our customers and partners.
Leveraging their global footprint enabled us to bring customers and partners out of their environment, into a distraction-free common space, to work through problem and solution workshops. This often enables teams to complete weeks worth of work within days.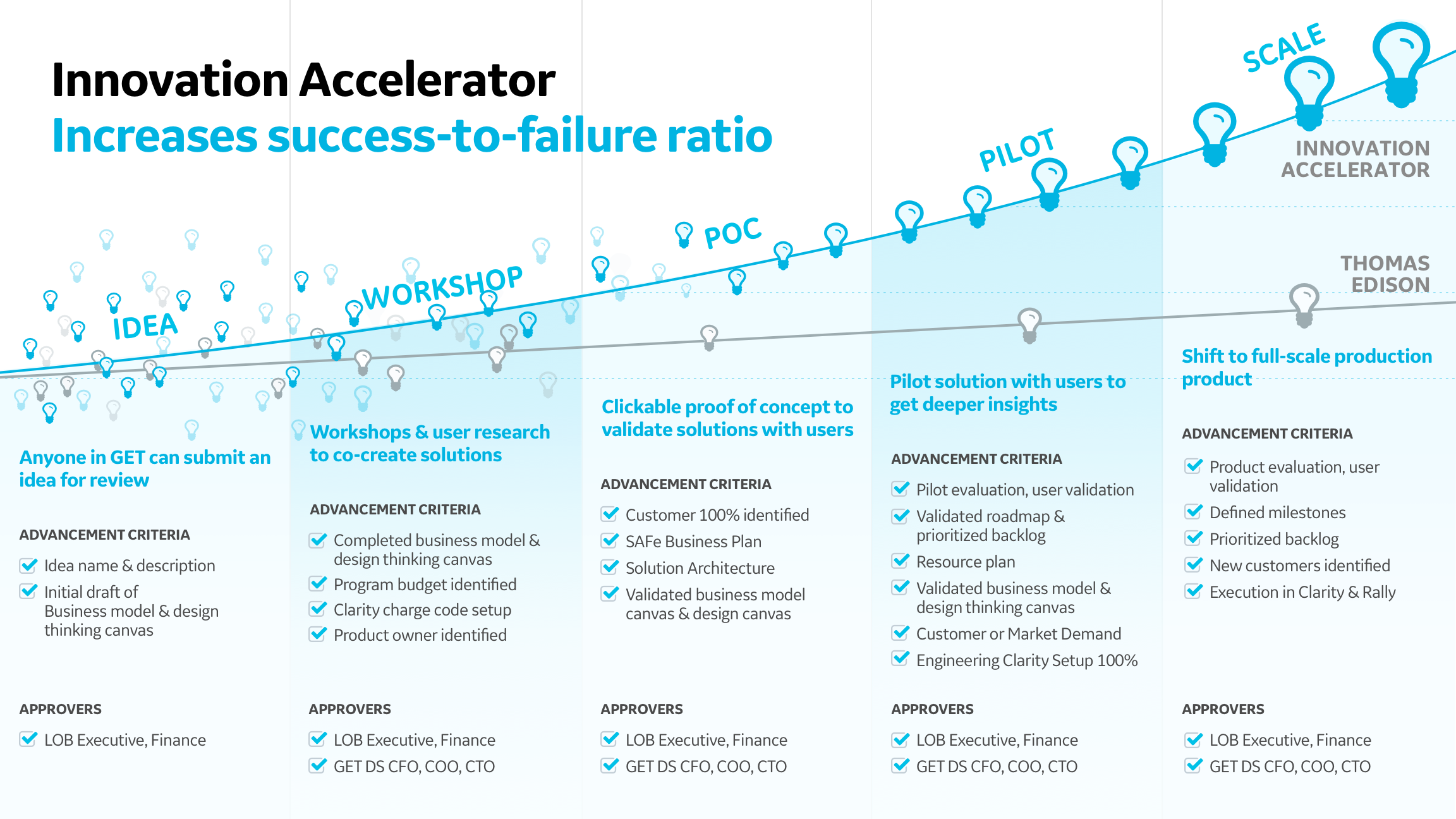 Standardized documentation, validated over time
Leadership
Organizational
Innovation programs like this must be supported from leadership in every way, they can not exist in a vacuum. This of course means proper funding, but also realistic exceptions. Innovation labs can not be profitable in the first year, and often can not be expected to charge their time back to internal projects or team. They must be empowered to focus on high-value endeavors, proven by market and user research.
operational
To see meaningful results, innovation teams can not be a hobby or a team's side project. There must be dedicated leadership focusing on internal and external evangelism. As this innovation team grew, I was able to find a like-minded parter-in-crime to help run the lab, build partnerships, and help showcase wins across the organization. This enabled the growth and focus the team needed to flourish.
Today this team is on the front-lines of our business strategy, leading executive strategy and setting the course for new business initiatives. We successfully took ownership of a $75mm innovation budget, leading projects through standardized documentation, market validation, and user validation. In our first year, we signed a $2mm contract to co-develop a new product with a customer, as well as won a UX Award for our innovation process.
Innovation Accelerator Case Study
This video case study was produced by my team to help share the mission of the team, and how we're approaching net-new product exploration and innovation. We later entered it into the 2017 UX Awards, and won top rated by public vote.
Innovation Lab Q&A at the UX Awards
After winning, they asked us up to chat a bit more about the program, and our experiences.